Welcome to
St James Anglican Church Kentville, Nova Scotia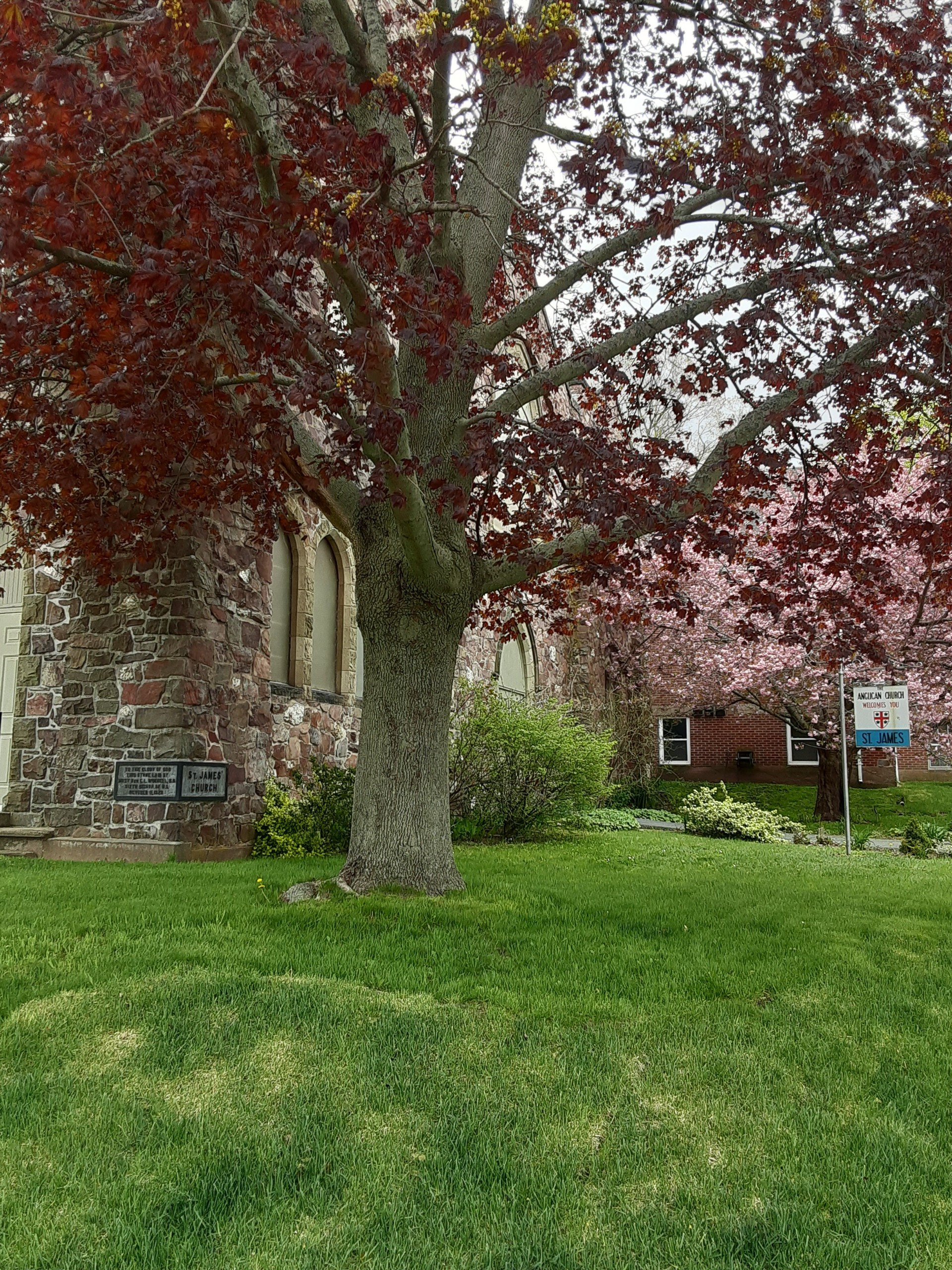 The Stained Glass Windows at St. James
Research was conducted by Adell Horton, and editing was done
by Rev. Catherine Desloges.
Stained glass windows have been used for a thousand years.  Pieces of coloured glass of different colours are joined together with strips of lead so as to make a picture, usually of a Bible scene or Biblical character or a Saint.  The light shines through the coloured glass and creates a beautiful effect inside the church.  In an age when many people could not read, these windows were used to tell the stories of the bible, as well as to beautify the cathedrals and churches.  
Saint James Anglican Church, Kentville has a wonderful heritage in its beautiful, richly coloured windows.  All of the windows in the chancel were crafted Czechoslovakia and had been in toehold church.  Most of the remaining windows were the work of Robert McCausland Ltd., Toronto. This firm has been in business since 1856 and still advertise in the "Anglican Journal".  
How many of us take the time to admire these windows, to read the stories they tell and to think of the years of service and devotion of the people for who they have been given as a Memorial.  We have included the stained glass windows in our web page along with a map of where they they are located.  
We hope you enjoy your tour of the beautiful windows of Saint James Anglican Church.  
At this time we would like to thank Adell E. Horton for research and William M. Horton for the pictures of the windows and Ann Louise Horton Longley who did the computer work in the book of stained glass windows on display at the back of the church; all of which were used in creating this web page.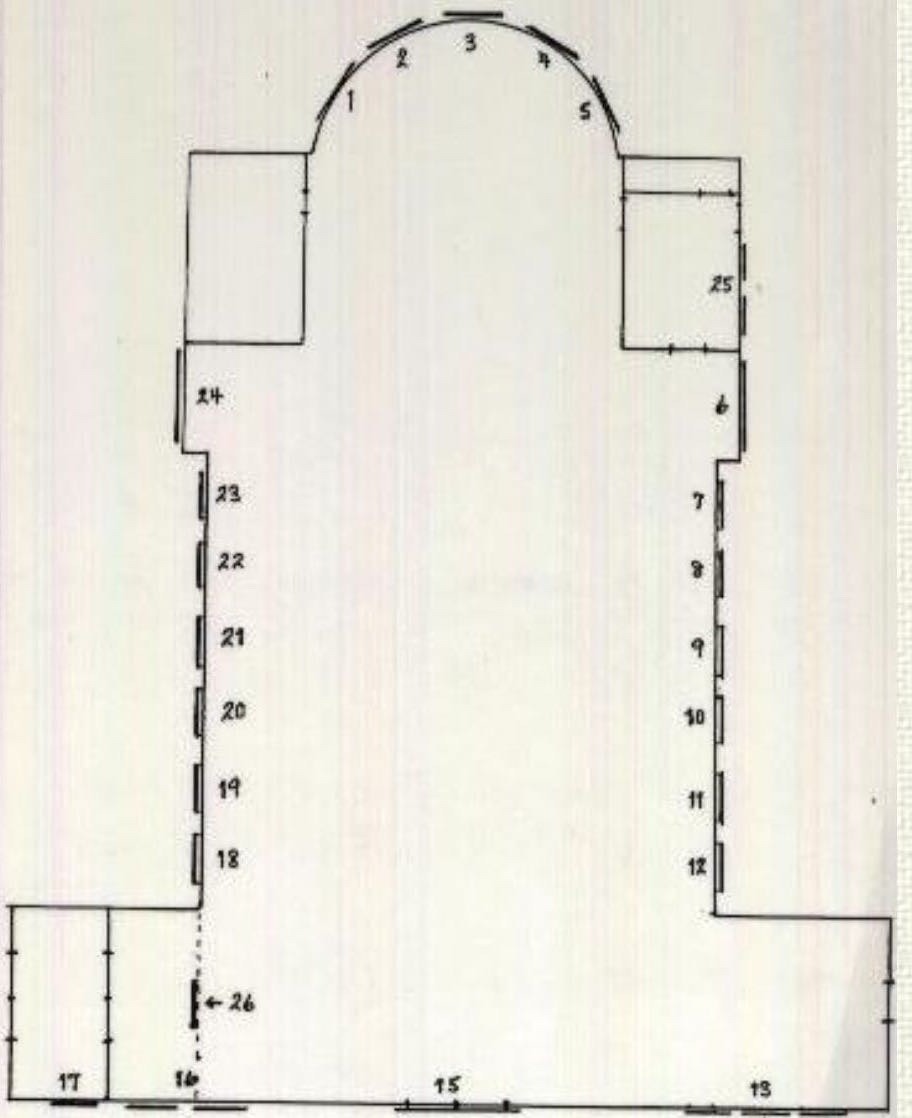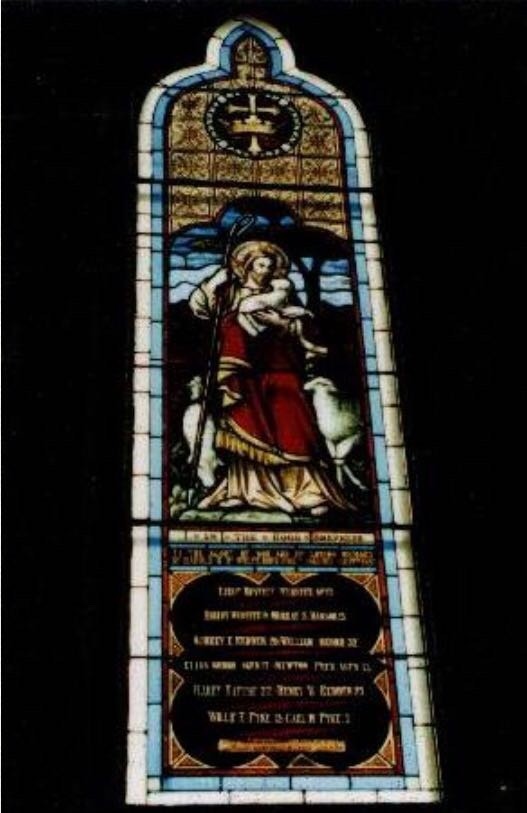 Window 1
I AM THE GOOD SHEPHERD
I AM THE GOOD SHEPHERD
Jesus is speaking to the Pharisees and compares himself to a good shepherd "I am a good shepherd, I know my sheep and my sheep know me - just as the Father knows me and I know the Father - and I lay down my life for the sheep"
Dedication:
Harold H. DeWolfe - June 1865 to January 29, 1887

Lieut. Beverly Webster, 23 (March 22, 1902)

Robert Webster, 18 (August 8, 1902)

Murray S. Hanson, 13 (May 17, 1894)

Aubrey E. Reddon, 20 (April 15, 1895)

William Grono, 32 (December 16, 1899)

Elias Grono, 17 (August 28, 1886)

Newton Peck, 15

Harry Rafuse, 22

Henry E. Pyke, 12

Carl M. Pyke, 5
Dedicated by Deaconess Alice Webster 1903
Window 2
THE WORD MADE FLESH
"The word became flesh and lived for a while among us "John Chapter 1 - Verse 14"
This window portrays the birth of Jesus with Joseph and Mary, his mother, and the Magi, who followed the Str from the East and came to worship the Baby Jesus.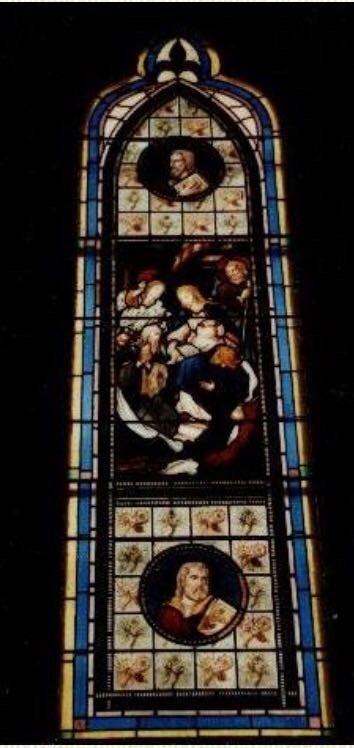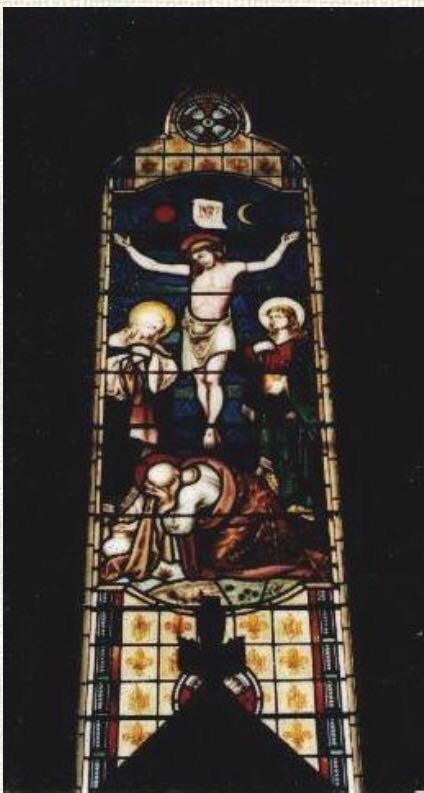 It is very fitting that this window depicting the Crucifixion is placed so that it is the focal point behind the altar in the Chancel.  
It shows Jesus on the cross, with Mary, his mother and Mary Magdalene on either side and the terrified Centurion kneeling in front and saying "Surely He is the Son of God".
The red circle and the gold crescent represent the darkness from the sixth to the ninth hour.
I.N.R.I. - Jesus of Nazareth, King of the Jews
Window 4
THOU ARE GONE UPON HIGH
After the resurrection, Jesus appeared to the Eleven Apostles in Jerusalem.  He led them out to the vicinity of Bethany and lifted up his hands and blessed them.  While he was blessing them, he left them and was taken up into heaven.
These windows were in the Chancel of the old Church and were removed for it at the time the new Saint James was built (1920-1922).  It is thought that they were crafted in Czechoslavakia.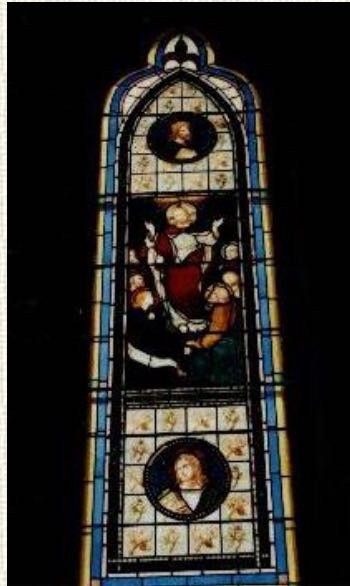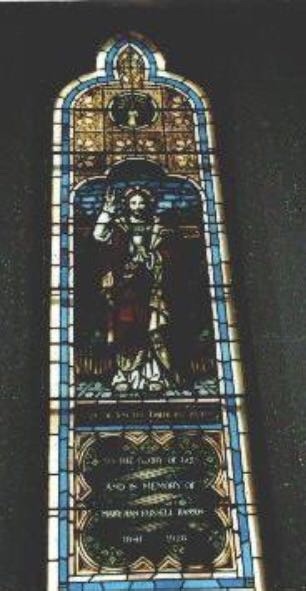 Window 5
I AM THE WAY, THE TRUTH AND THE LIFE
Thomas said to Jesus "Lord we don't know where you are going, so how can we know the way?"
Jesus answered, "I am the way, the truth and the life.  No one comes to the Father except through me."
Dedication: To the Glory of God and in Memory of Mary Ann Russell Hanson 1841-1928
Window 6
TRIO OF WINDOWS DEPICTING THE VIRGIN MARY, JESUS AND DORCAS
These three windows portray the Virgin Mary, Jesus and Dorcas. The Virgin Mary is the left window. The central is Jesus - the way, the truth and life. And the figure on the right is Dorcas. Dorcas lived in Joppa and was a believer. She was noted for her hand word and sewing and to this day many women's church groups are called "Dorcas Societies". Acts 9: 36-43.
Dedication:
To the glory of God and in memory of His Honour Barclay Webster, 1849-1928, judge of the County Court, and his wife Ethel Barclay Webster, 1858-1930 and their son Lieut. Beverley Webster, Royal Lancaster Regt., Imperial Army who died from the effects of war service in South Africa, age 23.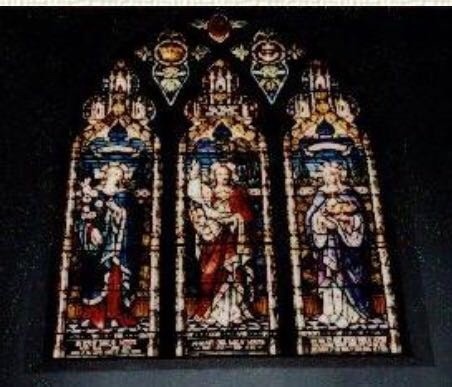 Window 7
THE WORD IS A LAMP UNTO MY FEET, AND A LIGHT UNTO MY PATH
The above quotation is contained in Psalm 119 - Verse 105.   
Dedication:
In Memory of Alma Olivia Winthrop, Daughter of Richard and Olivia Moore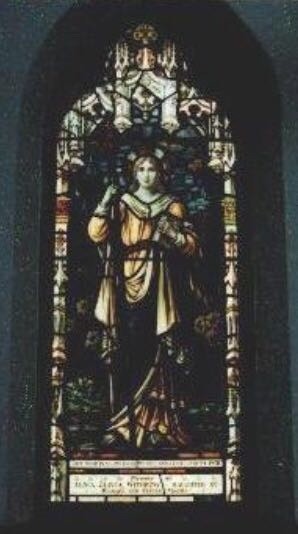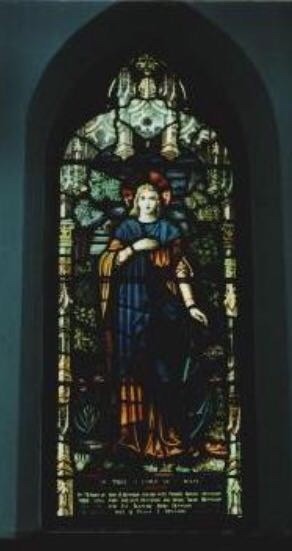 Window 8
IN THEE O LORD DO I HOPE
This quotation is taken from Psalm 38 - Verse 5.  "For in Thee, O Lord, do I hope; Thou wilt hear, O Lord My God."  
In Memory of John H. Dennison and his wife Phoebe Brison Dennison and Eva Blanche Jones Dennison, wife of Frank E. Dennison
Window 9
SUFFER THE LITTLE CHILDREN TO COME INTO ME AND FORBID THEM NOT
Jesus rebukes the disciples for sending away the little children and says "Suffer the little children to come unto me and forbid them not, for of such is the kingdom of heaven".
Dedication:
In Loving Memory of Gwendolyn Dorothy, beloved only daughter of Herbert and Alice Tyler, died September, 1930 - Age 10 1/2
Window 10
THIS IS MY BELOVED SON IN WHOME I AM WELL PLEASED
This window shows John the Baptist baptizing Jesus in the River Jordan.  As he was coming up out of the water, the Spirit of God, like a dove, descended on him and a voice from heaven was heard saying "This is my beloved Son in whom I am well pleased".
Dedication:
In Ever Loving Memory of Potter A Oyler, Younger and Beloved Son of Herbert and Alice Oyler, October 12, 1910 - October 3, 1936.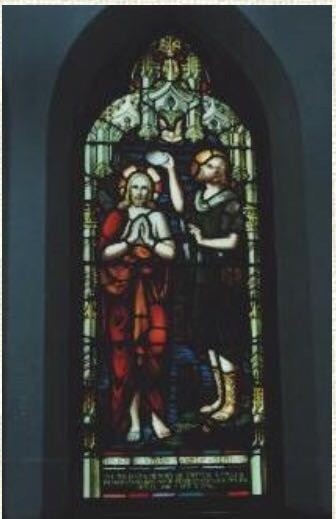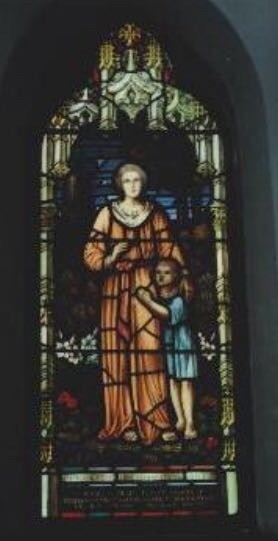 Window 11
REMEMBERING WITHOUT CEASING YOUR WORK OF FAITH AND LABOR OF LOVE
In Paul's letter to the Thessalonians, he writes that he gives thanks to God for their faith in Christ Jesus and for their work in spreading the Good News.
This window shows a mother with her child.  Mrs. Waddington left behind a small daughter which was probably the reason this particular window was chosen.
Dedication:
In Memory of Helen Lovitt, Daughter of Frederick and Emily T. Wickwire and wife Norval R. Waddington, born June 20, 1906, died August 11, 1935
This window was dedicated on August 28, 1938
Window 12
I AM THE RESURRECTION AND THE LIFE
When Jesus heard that Lazarus, the brother of Mary and Martha, was dead, he went to Bethany where they lived and Martha came to meet him.  Martha said to Jesus, "Lord, if you had been here, my brother would not have died". Jesus said "I am the resurrection and the life. He who believes in me will live, even though he dies, and whoever lives and believes in me will never die.  Do you believe this?" Martha answered "Yes, Lord".
After this, in the midst of many people, Jesus raised Lazarus from the dead.
Dedication:
Janie Thompson Wickwire, June 13, 1875 - June 10, 1936, beloved wife of Major General Foster, C.B., M.D.
This window was dedicated August 28, 1938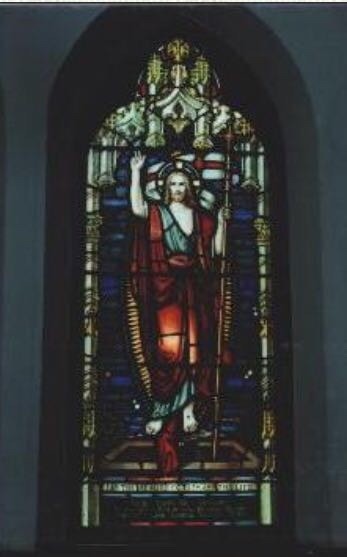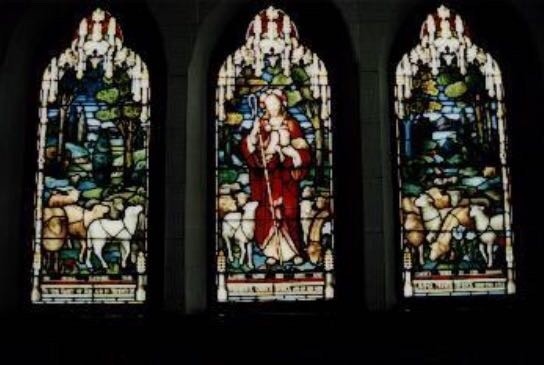 Window 13
HE SHALL GATHER THE LAMBS
WITH HIS ARM AND CARRY THEM IN HIS BOSUM
In His teachings, Jesus often referred to himself as the Good Shepherd and also as the door of the sheepfold. Any man entering in by the door shall be saved.
These three windows portray Jesus as a shepherd with his flock.
Dedication:
To the Glory of god and in Memory of Fredrick Church Dimock and his wife Lavinia Moore Dimock
Erected 1935 and dedicated September 13, 1936
Window 14
LORD NOW LETTEST THOU THY SERVANT DEPART IN PEACE
In this window the baby Jesus is shown being brought to the temple by Joseph and Mary, and Simeon taking him up in his arms.
Simeon was a righteous and devout man living in Jerusalem.  It had been revealed to him by the Holy Spirit that he would not die before he had seen the Lord's Christ. When Jesus was brought into the temple by his parents to do for him after the custom of the law, Simeon took him up in his arms and praised God.
This song of Simeon is known as the Nunc Dimittis and to this day is used in the liturgy of our Church.
Dedication:
To the Honour and Glory of God and in Memory of Samuel M. Albro and Family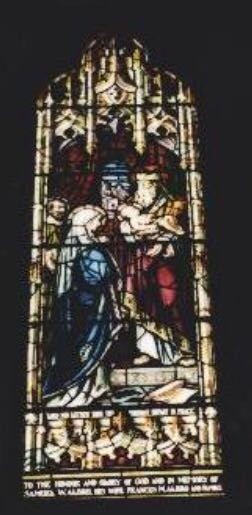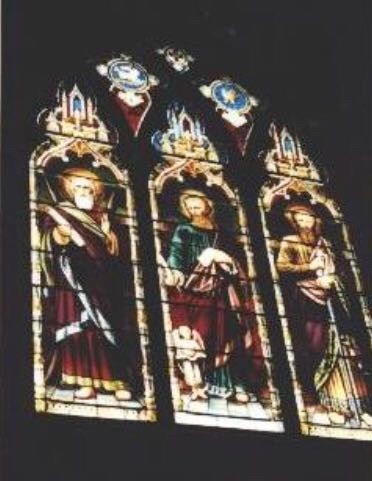 Window 15
TRIO OF WINDOWS DEPICTING:
St. Andrew with the cross of St. Andrew in the background and holding in his hand a scroll.

St. Matthew with a small angel in the foreground.

St. Paul holding the sword and scroll.
Dedication: to the glory of God and in loving memory of Charles Smith, a lifelong member of the parish and warden for 16 years.
Window 16
ST. BARNABAS AND MARTHA
Barnabas traveled to many places to spread the good news about the Lord Jesus.  He was full of the Holy Spirit and faith and a great number of people believed and were brought to the Lord.
Martha and Mary were friends of Jesus and welcomed him to their home.  Martha was the homemaker and she was responsible for the work and preparations for Jesus' visits.
These two windows are very appropriate for a Priest of the Church and his wife.
Dedication:
To the Glory of God, in memory of James Abbott Winfield, Priest, born June 21, 1853 and died October 26, 1944 and in loving memory of Margaret Mary Winfield, his wife, born April 19, 1854 and died May 9, 1926.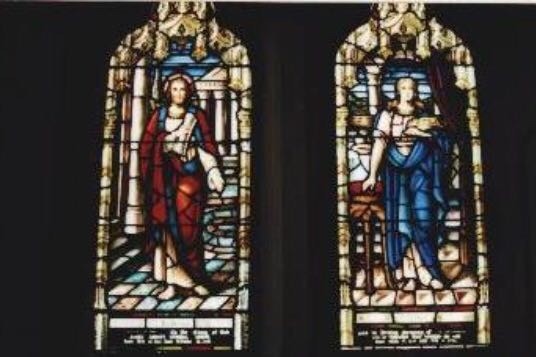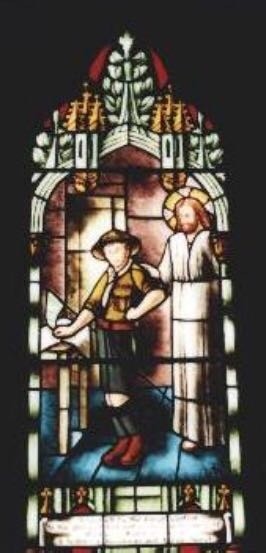 Window 17
JESUS AND THE BOY SCOUT
This window depicts Jesus standing with his hand on the shoulder of a Boy Scout.
Dedication:
Erected by the Congregation to the Glory of God and in Loving Memory of Walter R. Wood, 1876 - 1981.  A Faithful Churchman and true Scout.
Window 18
THE LABOURERS ARE FEW
When Jesus saw the multitudes that were coming to him to be taught and to be healed, he had compassion on them. He called his disciples to him and said "The harvest truly is plenteous, but the labourers are few."
Then he sent out his disciples and gave them power to preach and to do miracles.
In this window Jesus is shown standing in a wheat field speaking to one of the apostles.
Dedication:
To the Glory of God and in Loving Memory of George Edgar Graham, 1870 - 1953, and his wife Mary Lucinda Lisle Beckett, 1869-1939.
This window was dedicated September 19, 1954 and was made by J. Wippell and Co. Ltd. of London and Exeter, England.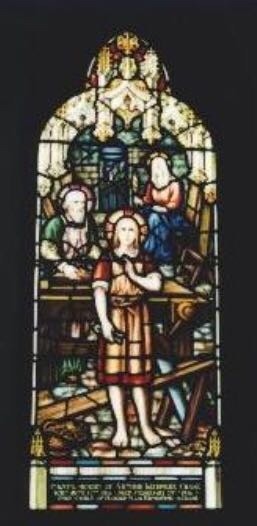 Window 19
 JESUS INCREASED IN WISDOM AND STATURE
When Jesus was twelve, his parents took him to Jerusalem for the feast of Passover.  His parents were returning home to Nazareth when they discovered Jesus was not with them.  They went back to Jerusalem and found him in the temple surrounded by the teachers, listening to them and questioning them; all who heard him were astonished at his understanding  and answers.
And Jesus increased in wisdom and stature, and in favour with God and man.
In this window Jesus is shown as a young man working with Joseph, his father, in the carpenter shop.  Mary, his mother, is in the background.
Dedication:
In Loving Memory of Arthur Lechmere Chase, born June 12, 1916 and died February 29, 1936. Only child of Harold M. and Ernestine A. Chase.
Window 20
BE STRONG, FEAR NOT
This is a beautiful window showing Jesus walking on the water.  His disciples were in a boat on the Sea of Galilee when a storm came up and they were afraid.  Jesus came to them walking on the water and said unto them "It is I; be not afraid".
Dedication:
To the Glory of God and in loving memory of Frederic Ernest Wade, November 21, 1881 - August 29, 1949, and Helen Wade Wightman, August 11, 1921 - October 14, 1942.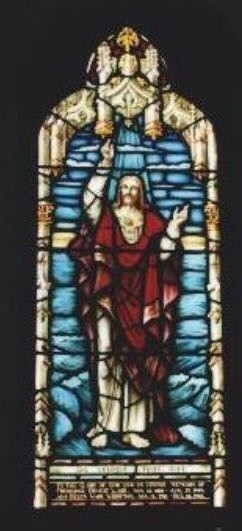 Window 21
THE GREATEST OF THESE IS CHARITY
Paul wrote "And now abideth faith, hope, charity, these three; but the greatest of these is charity". When our Bible was translated in 1611, the word "charity" had the meaning we now give to the word "love." The woman in this window is expressing love in its simplest terms, the act of nourishing her family or friends.
Dedication:
In Loving Memory of Ellen Lovitt Yould, May 24, 1950 - June 14, 1941, and her husband William Yould, July 11, 1847.  Married 72 years, 8 months.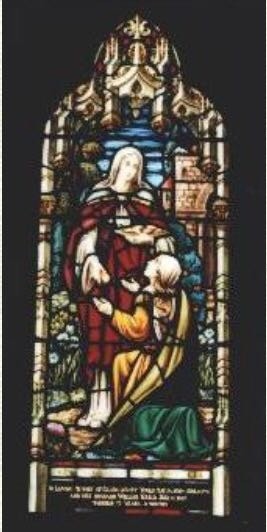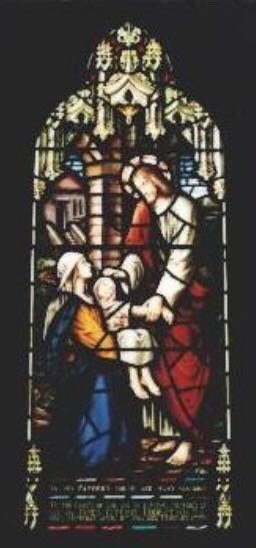 Window 22
IN MY FATHER'S HOUSE ARE MANY MANSIONS
After the Last Supper, Jesus told his apostles he was going to be with them only a little longer and he comforts them with these words, "Let not your heart be troubled, ye believe in God, believe also in me. In my Father's house are many mansions; if it were not so, I would have told you.  I go to prepare a place for you."
This window manifests the healing power of Jesus.  It is a very appropriate memorial window for a young doctor.
Dedication:
To the Glory of God and in loving memory of our son, James Ritchie Robertson, M.D., born in Kentville on April 17, 1900 and died February 27, 1935.
Window 23
ABIDE WITH US FOR IT IS TOWARD EVENING
This window depicts Jesus appearing to two of his followers, Clops and another, on their way to Emma's. This is one of the first appearances after His resurrection.
Dedication:
To the Glory of God and in memory of Hon. Harry Wickwire, June 21, 1868 - November 26, 1922.
Erected by his wife - 1938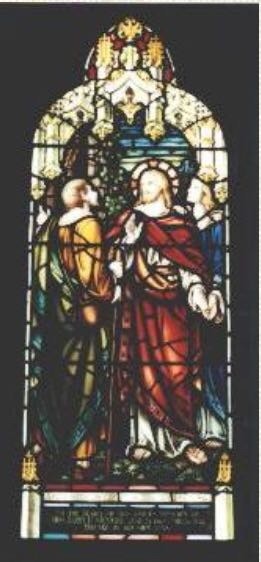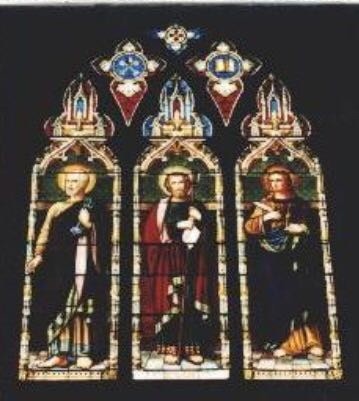 Window 24
TRIO OF WINDOWS DEPICTING:
St. Peter holding key to the kingdom of heaven
St. James the great, apostle and martyr
St. John the Evangelist
St. Peter is shown holding two keys, one golden and one silver; they are interpreted as signifying his power to bind and to loose.  Legend makes St. Peter the keeper of the entrance to Paradise which gives him power to grant or refuse admission. His writings are contained in two short books in the New Testament. There are many legends about St. Peter, but he eventually arrived in Rome where he was thrown in prison, where he converted the centurions who guarded him and other prisoners. St. Peter was crucified in Rome.
St. James was the brother of John, and was much with Jesus and present at most important events in his life such as the Transfiguration and the Agony of the Garden. He is shown with a pilgrim's staff which he carried with him, preaching first in Judea, then later in Spain. He returned to Judea and spent many years preaching until he was seized by Herod and executed with the sword.
St. John was the son of Zebedee and brother of James the Great.  From the time of his calling, his life seems to be almost inseparable from that of Jesus. He saw the Transfiguration and was with him at the Last Supper. He stood by the Cross and received the charge of Jesus concerning the Virgin Mary and he laid the body of the Saviour in the Tomb.  He traveled with Peter throughout Judea preaching the gospel. He went to Asia Minor living chiefly in Ephesus, and founded the seven churches. It was here that it is believed he wrote his gospel.
Dedication:
In Loving Memory of John Byrne, Wife and Family.
Window 25
TWO WINDOWS IN THE ST. THOMAS CHAPEL
Take and eat this
Drink this in remembrance  
These two beautiful windows commemorate the Last Supper. As we celebrate the service of Holy Communion, we remember the words of our Lord: "Do this in remembrance of me."
Dedication:
Given by Miss Dodge in memory of her father and mother.
The dedication for these windows was in October, 1955.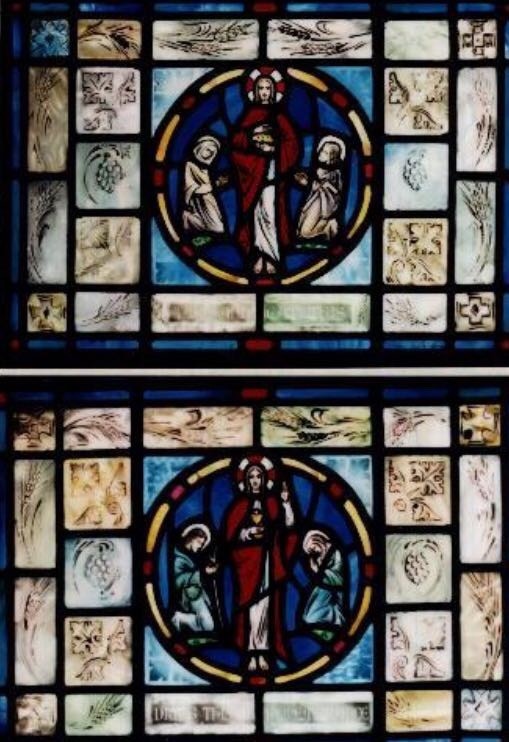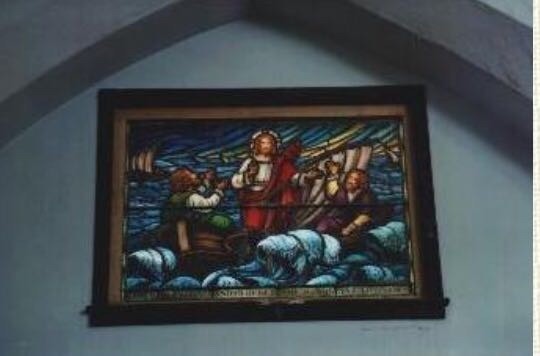 Window 26
THEN HE AROSE AND REBUKED THE WIND AND SEA
This window tells the story of Jesus and his disciples in a boat on the Sea of Galilee. Jesus was asleep in the stern of the boat when a heavy squall came on and nearly swamped the boat.  The disciples woke him up and said "Master, we are sinking!  Do you not care?"  Jesus arose and rebuked the wind and said to the sea "Peace, be still." The wind ceased and there was a great calm.
Dedication:
Donated by Mrs. Harold M. Chase in memory of her brother, Dr. Ward, lost at sea during WW1. September 12, 1918.
Prepared for the 2020 Electoral Synod, St. James, Kentville.